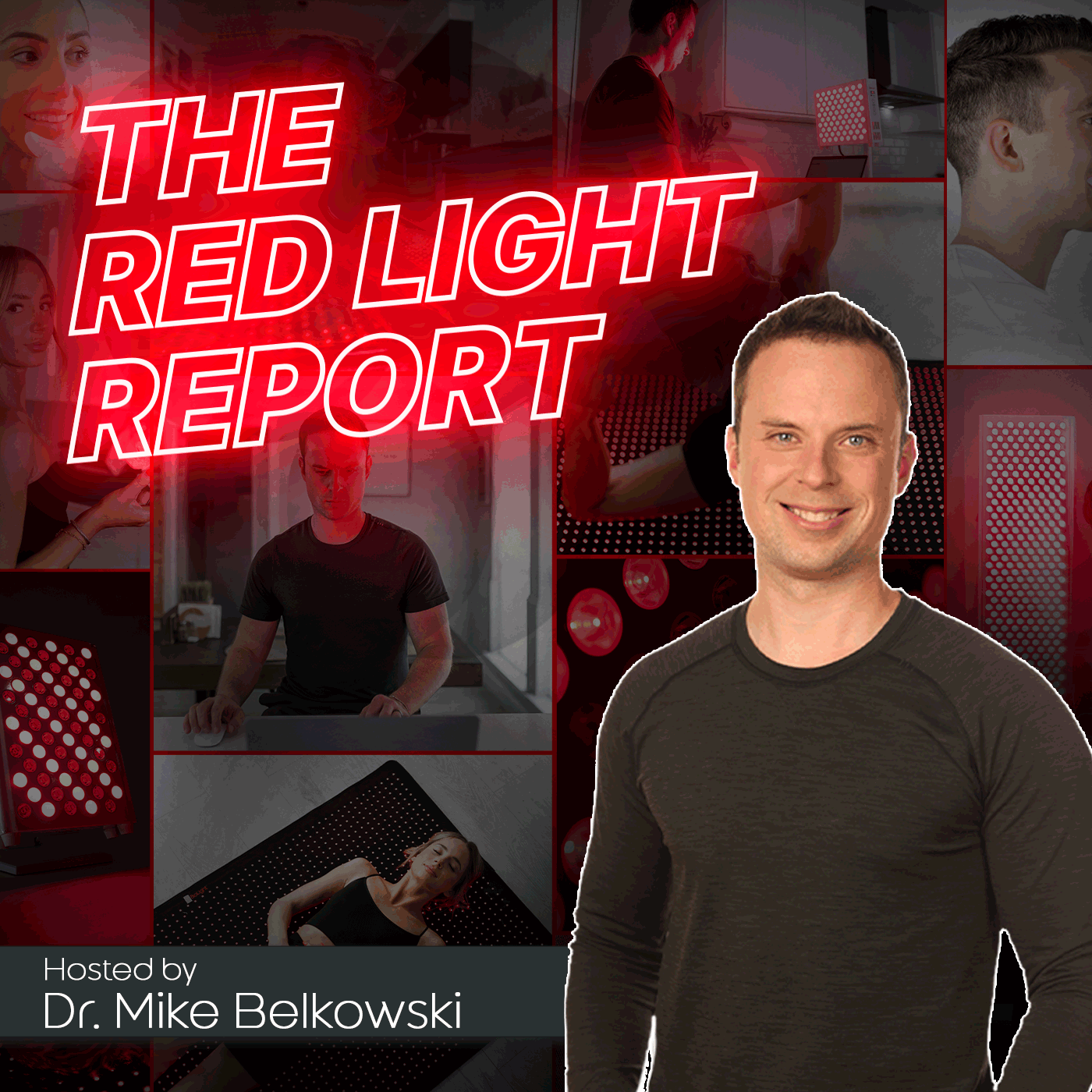 The Red Light Report podcast is your number one source for all things red light therapy, hosted by Dr. Mike Belkowski, the founder and CEO of BioLight. Dr. Belkowski discusses the many health-related benefits of properly utilizing red light therapy and explores the best and most recent research related to photobiomodulation (ie, red light therapy). He will also be interviewing some of the most interesting and respected health, wellness, longevity and biohacking experts from around the world. Want to learn even more about red light therapy? Check out these sources: www.biolight.shop – Instagram @biolight.shop – YouTube BioLight
Episodes
Thursday Sep 14, 2023
Thursday Sep 14, 2023
Carrie Bennett was the most popular episode of 2022 on The Red Light Report, and I was lucky enough to get the chance to sit down with her again to geek out some more on the quantum side of biology and health. We dig a little deeper into the foundational tenants of quantum health: light, water and magnetism. It is within these three pillars that you must be concentrating the majority of your efforts in order to optimize mitochondrial health and bear the fruit of limitless energy and vitality. You simply need to understand the principles... which is where Carrie's expertise comes in!

Carrie discusses some newer topics on today's episode, such as why she is no longer a fan of supplementing vitamin D, along with other analogous "supplements" that our hormones already produced in our body. She delves into the topic of hydration and why she thinks that is one of the most overlooked areas of health and one of the lowest hanging fruits from a quantum energetic perspective. Carrie also discusses how diluted ocean water may be one of the missing links to a more vibrant healthspan.

For those of you that haven't listened to that first interview —  and even those that have!  — I highly recommend going back and listening to it, as Carrie is an absolute expert in quantum health and is an amazing source of information and education (the link for that episode is in the show notes).


You can't help but get excited and energized when you hear Carrie talk. Her energy is infectious and her information and quantum education is unparalleled. Enjoy and, as always, light up your health!
-
Key points:
What's new in the quantum health world: (1:34)
The paradigm of light, water, and magnetism: (3:04)
Not supplementing with vitamin D: (4:07)
Maximizing vitamin D production from the skin: (6:19)
Melatonin: (8:02)
Non-native EMFs: (10:35)
Northern climates, darker climates, and vitamin D: (11:24)
Melatonin supplementation: (14:39)
Philosophy on supplementation in general: (17:24)
Hydrogen and the body: (19:23)
Get your light and hydration right: (19:46)
NAD+ and nature: (20:07)
Adequate sleep recycles NAD+: (21:28)
Dehydration is inflammatory: (23:07)
Laying the right health foundation: (23:50)
The non-native EMF "ocean": (24:36)
Hydrogen-rich water vs electron-rich water: (24:52)
Benefits of molecular hydrogen: (27:03)
Nitric oxide: (30:31)
Alkaline and acidic: (31:13)
Diluted seawater and essential minerals: (32:02)
Rehydration trajectory: (34:17)
Unopposed blue light and its effect: (35:29)
Messing with the body's natural water process: (35:57)
Bringing people back to nature: (36:33)
Magnetism and its impact on our health: (36:45)
Magnetism is a pull for nutrients: (37:48)
Beneficial magnetic fields: (38:41)
Gratitude and getting the correct inputs: (43:43)
PEMF mats: (45:47)
Indoor grounding mechanisms: (47:16)
Enhancing the biofield: (49:46)
Emotional trauma and quantum health: (54:21)
Listen to the previous episode with Carrie Bennett:


Where to Learn More From & About Carrie Bennett:
Instagram
Check out BioLight's most innovative product yet: 
the Cocoon
!
-
-
To learn more about red light therapy and shop for the highest-quality red light therapy products, visit https://www.biolight.shop
-
Dr. Mike's #1 recommendation for grounding products: Earthing.com
-
Stay up-to-date on social media:
Dr. Mike Belkowski:
BioLight: