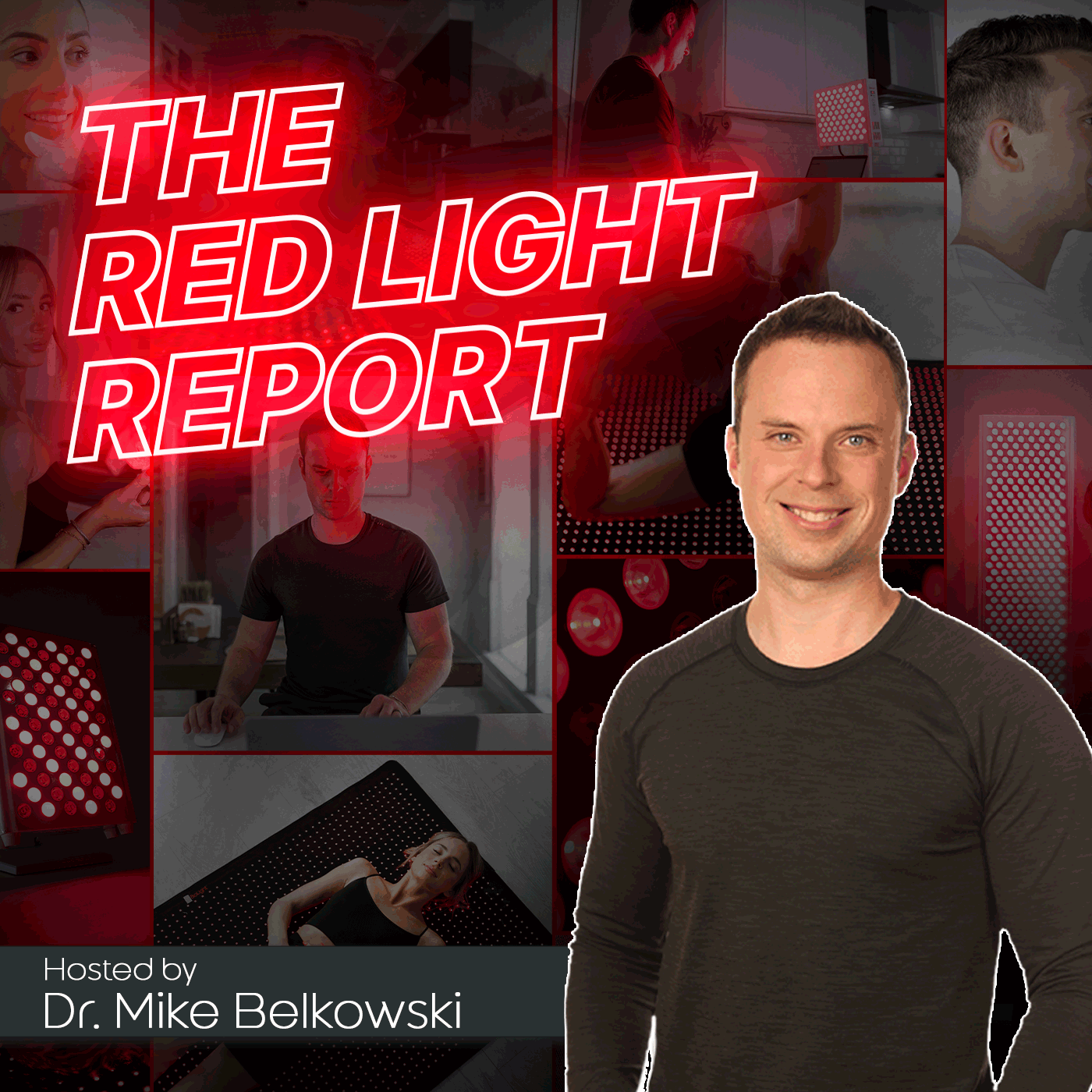 The Red Light Report podcast is your number one source for all things red light therapy, hosted by Dr. Mike Belkowski, the founder and CEO of BioLight. Dr. Belkowski discusses the many health-related benefits of properly utilizing red light therapy and explores the best and most recent research related to photobiomodulation (ie, red light therapy). He will also be interviewing some of the most interesting and respected health, wellness, longevity and biohacking experts from around the world. Want to learn even more about red light therapy? Check out these sources: www.biolight.shop – Instagram @biolight.shop – YouTube BioLight
Episodes
Thursday Sep 21, 2023
Thursday Sep 21, 2023
The most popular guest on The Red Light Report, David Horinek is a serial electromagnetic and light entrepreneur, inventor and, as many of you know, is the creator behind the Longevv creme that offered by BioLight. He is one of the more interesting and stimulating people I converse with and today's episode is no different. 

Our conversation got so in-depth that I decided to break it into two parts:

Part 1: ​today's episode where I catch up with all that David has been up to since he was last on the episode 15 months ago; David discusses all of the exciting products/inventions he and his many companies have been working on along with all of the energetic/frequency healing strategies he has been integrating

Part 2: We discuss a brand new product David helped me create: BioBlue  — stayed tuned for the second half of this conversation to learn all about this ground-breaking product that will be a must-have for all red light therapy enthusiasts!

I always walk away from these discussions with David with a greater appreciation for the magnitude that health and frequency play in our health and how easily we can implement them into our life to better our health. As always, learn lots and light up your health!
Key points:
David's recent manufacturing endeavors: (1:26)
Your body becoming its own healer: (3:25)
The biofield: (4:54)
Seeking out new things for health and wellness: (7:59)
We live in a world of interconnected waves: (9:00)
Air quality and lichen: (9:40)
EMFs and its effect on bees: (12:41)
Pulsar: their newest product: (13:00)
Silver and its benefits: (15:00)
Increasing the energetics of your environment: (20:50)
Frequencies our bodies have never encountered: (23:00)
Modulating frequencies: (23:34)
Technology is getting more sophisticated: (27:36)
Frequencies blocked by the clothing: (28:19)
"Positive" frequencies and grounding: (28:55)
DNA damage and repair: (30:57)
Increasing resonance in the body: (32:26)
His product Biowave: (35:31)
Studies on energy and nutrients: (36:50)
Vitamin D production in the body: (37:30)
Making fibers out of natural ingredients: (38:50)
UV light and the skin: (41:07)
Time is your most valuable asset: (43:33)
Nature gets it right: calming effect of trees and forest bathing: (44:59)
Tree circuiting and mitigating stress: (47:38)
Changing your emotional outlook on life: (51:13)
Be your own psychologist: (52:34)
Bach flowers: (53:07)
Touching trees effectively: (54:45)
Synergistic effects: (57:49)
Making fabrics for different environments: (59:29)
Increasing athletic performance: (1:01:07)
Technology can increase tissue oxygen: (1:01:47)
Increasing bioavailability of nutrients and shelf life in food: (1:02:36)
Increasing stem cell production: (1:05:12)
Grouding effect of humic acid: (1:07:41)
Longevv Rivivv Creme: (1:07:54)
Malillumination: (1:09:49)
Lessening dark spots: (1:13:59)
Listen to the previous episodes with David Horinek:
5/2021
12/2021
(Thorough discussion on Longevv creme ingredients)
Apple Podcasts

Bach Flower Remedies - Self-Help

Recipe for increasing stem cell production:
—  Organic cacao (2 tablespoons)
—  Raw honey
—  Vanilla
—  Oat Milk
—  Cayenne pepper (optional)
Check out BioLight's most innovative product yet: 
the Cocoon
!
-
-
To learn more about red light therapy and shop for the highest-quality red light therapy products, visit https://www.biolight.shop
-
Dr. Mike's #1 recommendation for grounding products: Earthing.com
-
Stay up-to-date on social media:
Dr. Mike Belkowski:
BioLight: