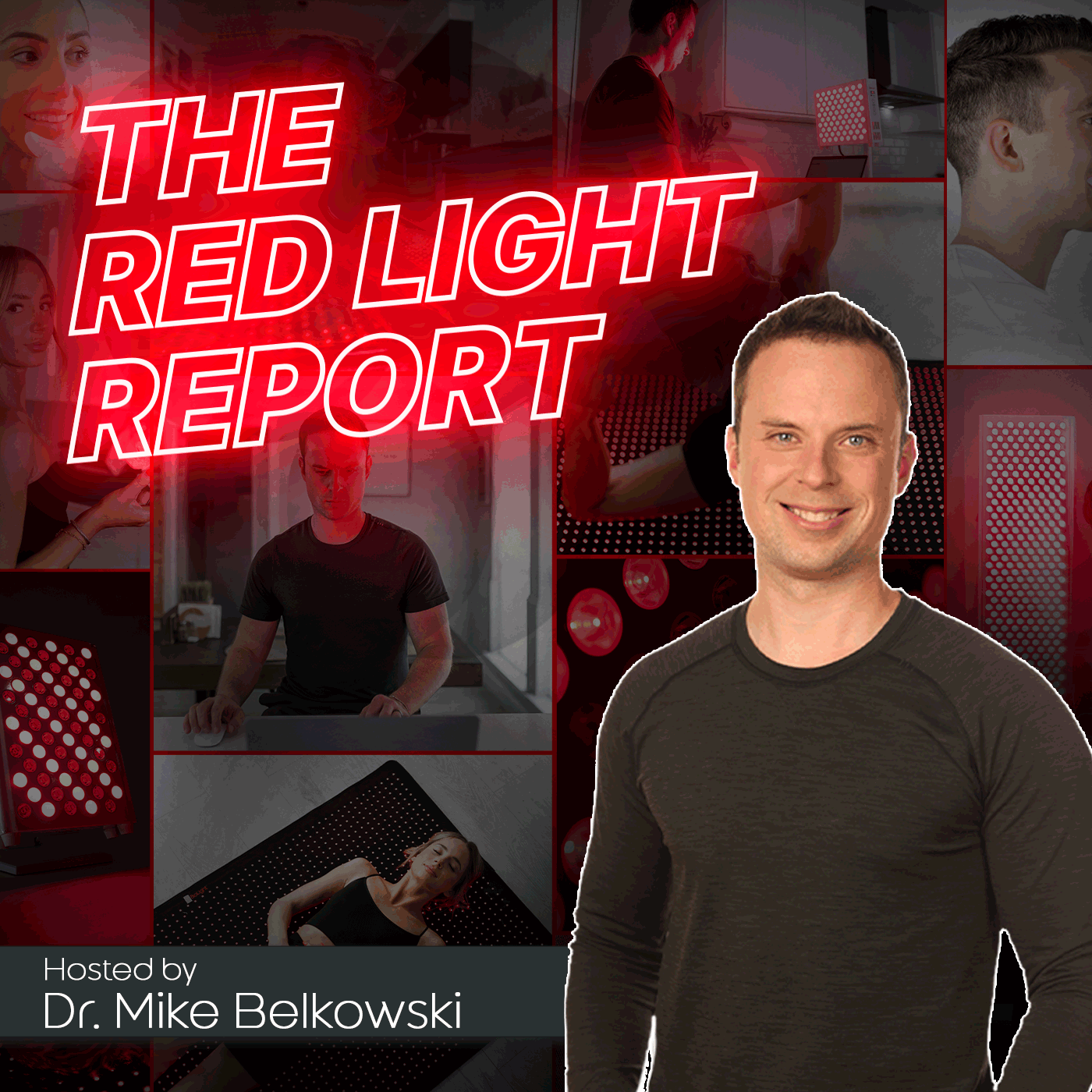 The Red Light Report podcast is your number one source for all things red light therapy, hosted by Dr. Mike Belkowski, the founder and CEO of BioLight. Dr. Belkowski discusses the many health-related benefits of properly utilizing red light therapy and explores the best and most recent research related to photobiomodulation (ie, red light therapy). He will also be interviewing some of the most interesting and respected health, wellness, longevity and biohacking experts from around the world. Want to learn even more about red light therapy? Check out these sources: www.biolight.shop – Instagram @biolight.shop – YouTube BioLight
Episodes
Thursday Oct 20, 2022
Thursday Oct 20, 2022
Mistletoe anyone? On this week's episode of The Red Light Report, I had the chance to sit down with the Dr. Lucas Tims, a naturopathic oncologist that has some unique, yet sensible approaches to treating, mitigating and preventing cancer.  On top of that, he has a healthy respect for mitochondrial health and the role they play on not just overall health, but their relationship with cancer. Dr. Tims sees cancer as a teacher, not a problem. You will learn why and so much more in this information-packed episode!

Dr. Lucas Tims, ND, FABNO, is Medical Director of the Riordan Clinic's location in Overland Park, Kan. He is a naturopathic doctor who specializes in IV vitamin C, ozone therapy, the immune system and more. Originally from Northwest Arkansas, Dr. Lucas (as he is known to his patients) is a graduate of the University of Arkansas, where he majored in microbiology. He went on to complete his medical training at Southwest College of Naturopathic Medicine in Tempe, Arizona, before moving to Tulsa, Oklahoma, for an oncology-focused residency program at Cancer Treatment Centers of America (CTCA). In 2013, he passed his specialty boards designating him as a Fellow of the American Board of Naturopathic Oncology (FABNO). He has also earned a Metabolic Approach to Cancer (MATC) certificate from the Metabolic Terrain Institute of Health.

Throughout Dr. Lucas' 12 years of practice, he has provided Integrative Medicine support for thousands of cancer patients at multiple CTCA hospitals and clinics. As a board-certified, Naturopathic Oncologist, Dr. Lucas is an expert in how to utilize natural therapies to support patients during any phase of treatment or care setting. In early 2018, Dr. Lucas was appointed to a leadership role serving as Medical Director of Integrative Oncology at CTCA's Western Regional Medical Center. Dr. Lucas is also a 2020 recipient of the Excellence in Healthcare for Cancer Care recognition by the Wichita Business Journal.

Dr. Lucas was born into a family where nutrition and organic eating were the norm, and in his formative years he became deeply interested in science and medicine. His upbringing combined with influential mentors during his undergraduate studies helped pave his path toward naturopathic medicine.In his second year of naturopathic medical school, Dr. Lucas met his future wife. Shortly after they began dating, she was diagnosed with cancer. Helping her through her cancer journey was a turning point for him that fueled his passion for specializing in cancer care.

Throughout his tenure at Riordan Clinic, he has been instrumental in the development and expansion of comprehensive cancer programs that include therapies such as IV vitamin C, mistletoe, ozone therapy, Helleborus, and acupuncture. He works very closely with his patients on diet and lifestyle interventions that promote a healthy immune system and create the right internal climate for the body to heal.In addition to patient care, Dr. Lucas enjoys doing research, teaching, and writing for medical journals. He is a member, and board member, of the Oncology Association of Naturopathic Physicians and the Society for Integrative Oncology. 
Dr. Tims is an absolute wealth of knowledge and expert in the world of cancer. Anyone and everyone will benefit from listening and learning from him in this episode. As always, light up your health!
-
Dr. Mike Belkowski and Dr. Lucas Tims discuss the following:
2:02 - His background story getting into oncology
4:12 - The forgotten side of the cancer experience 
6:10 - The emotional, psychological, and spiritual portion of cancer treatment
7:07 - Acupuncture and stress
10:53 - Post-pandemic changes in oncology
14:46 - Cancer in younger patients
15:56 - Dr. Lucas Tims' integrative approach to cancer treatment
16:59 - Tripping Over the Truth - book recommendation about cancer fundamentals
17:32 - Cancer as a teacher, not as a problem
19:57 - Tactics to deter cancer
24:38 - Mitochondrial dysfunction and how it's measured
27:35 - Mitochondria-cancer relationship
30:25 - Red light therapy for cancer treatment and prevention
32:22 - Sunlight and heliotherapy benefits
33:46 - Tim Ferriss on health, wealth, and relationships, and how it relates to alternative cancer treatment
35:28 - Empowering patients in an informed way
37:41 - Cancer prevention
40:03 - Blood testing from a preventative standpoint
42:27 - Insight to your nutritional needs
43:09 - Nutrition Genome - Personal insight DNA testing
45:21 - Becoming Supernatural by Dr. Joe Dispenza - book recommendation
46:09 - Learn more about/ connect with Dr. Tims
Dr. Lucas is accepting new patients in the Overland Park office
Call 800-447-7276 to schedule an appointment
Check out the newest innovative device from BioLight... the Matrix!
-
To learn more about red light therapy and shop for the highest-quality red light therapy products, visit https://www.biolight.shop
-
Stay up-to-date on social media: