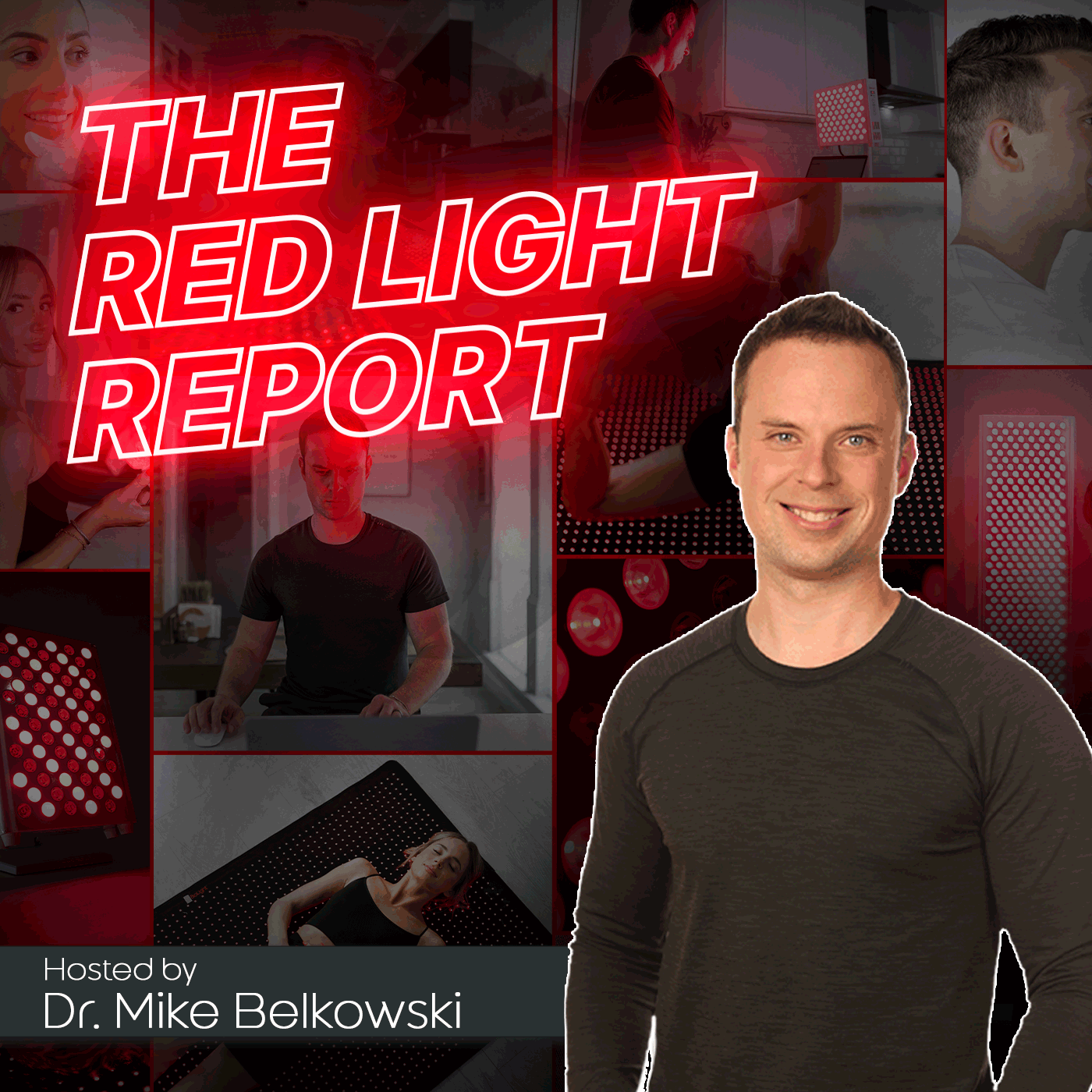 The Red Light Report podcast is your number one source for all things red light therapy, hosted by Dr. Mike Belkowski, the founder and CEO of BioLight. Dr. Belkowski discusses the many health-related benefits of properly utilizing red light therapy and explores the best and most recent research related to photobiomodulation (ie, red light therapy). He will also be interviewing some of the most interesting and respected health, wellness, longevity and biohacking experts from around the world. Want to learn even more about red light therapy? Check out these sources: www.biolight.shop – Instagram @biolight.shop – YouTube BioLight
Episodes
Thursday Mar 23, 2023
Thursday Mar 23, 2023
Today's guest is genuinely one of my favorite people to talk to, as we are kindred spirits in so many ways. This became even more abundantly clear on this week's episode of The Red Light Report, as Dr. Chris Motley and I both agreed to join forces on a special red light therapy project (that I am incredibly excited about!). This manifested completely out of thin air and was 100% impromptu during the middle of our conversation. If you are a longtime TRLR listener, you likely recognize this name, as he was a guest back in September '21, where we cover some fascinating topics: frequency therapy, dry needling vs. acupuncture, emotions related to specific organs, light/energy/resonance and so much more! I highly recommend going back and listening to our first conversation -- the link to that episode is in the show notes below.

As a quick review, Dr. Chris Motley is a doctor of chiropractic, is credentialed in acupuncture, is a highly respected expert in Chinese Medicine and Frequency Medicine and also has certifications in Chiro + Plus Kinesiology (CPK) and Neuro Emotional Technique. With his wealth of knowledge, he is a presenter at symposiums and is also a podcast co-host on Dr. Josh Axe's, Ancient Health Podcast. Dr. Motley also announced that he is now beginning a membership where you can join and learn from him in a more intimate setting and garner more of his amazing holistic knowledge and skillset. I highly recommend checking his membership out  — I know I will!

During our conversation today, Dr. Motley goes into some interesting and highly-engaging Chinese and frequency medicine and topics, such as how we can best transition our bodies and organs out of the slower, recovering mode of the winter season and into the reawakening and growing process of the spring season. He even walks through some hands-on techniques for self-treatment to help facilitate this process. 


It felt like this conversation went by in a couple of minutes and Dr. Motley and I could've easily talked for hours longer. However, I am always grateful for his time and the wisdom he is impassioned to share with anyone and everyone that is interested in improving their many aspects of health holistically. Enjoy learning from Dr. Motley and, as always, light up your health!
Dr. Mike Belkowski and Dr. Chris Motley discuss the following: 
Intro: (0:16)
What's new in his life: (2:57)
His interactive membership: (6:12)
Avoiding burnout: (8:22)
Overworking: (10:31) 
Chinese medicine and living by its rules: (12:12)
Transitioning into spring out of winter: (15:01)
How to know when Chinese medicine is working: (19:01)
Being in tune with your body: (21:25) 
Emotions tied to the gall bladder: (22:32)
Negative gall bladder health and how it manifests in the body: (23:40)
Releasing anger: (25:00)
Cupping specific areas of the body: (29:03)
How hard to press on pressure points: (31:17)
Dry needling: (32:46)
Taking your health into your own hands (36:48)
Red light therapy and Chinese medicine: (39:54)
Red light therapy and dry needling: (44:45)
Fusing old-age knowledge with new-age technology: (45:58)
Translucent needles that can transfer light: (46:59)
Acupuncture on a consistent basis for maintaining health and wellness: (49:41)
How oral health affects overall wellness: (52:21)
-
Watch this on YouTube
-
Listen to our previous conversation from the episode in September 2021, "

Energy & Emotions, Frequency Therapy & Acupuncture vs. Dry Needling w/ Dr. Christopher Motley

"



Apple Podcasts



Where to Learn More From & About Dr. Chris Motley:
Find him on social media:
Go to his website:
To learn more about red light therapy and shop for the highest-quality red light therapy products, visit https://www.biolight.shop
-
Stay up-to-date on social media: